Join Our Team and Come Party With Us!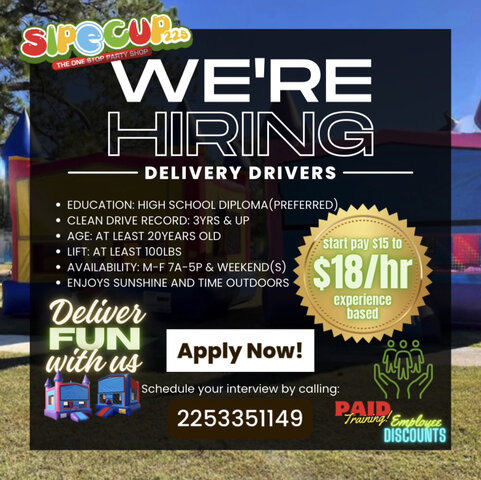 Inflatable Delivery Driver
How to deliver an inflatable explained
20-35hrs weekly
Responsibilities:
Deliver products to customer locations in a timely manner
Heavy Lifting of inflatables and party rentals
Load and unload vehicle
Inspect and monitor delivery vehicle
Maintain accurate inventory of equipment on pickup and return to shop
Customer service and communication
Cleaning party rental equipment
Knowledge of our products and safety requirements
​Qualifications:
Ability to communicate with others and provide customer service
Must have a valid Driver's License
Clean driving record
Ability to pull a trailer(preferred)
Ability to handle heavy lifting and a physical workload
Deadline-oriented
Sorry, this item is not available either because the particular order options (customer pickup) are not available for this item or because the date and/or time you have selected are not available. If you have any questions, please call our office at ...